Cover Page
Travellers choose usa
Summer traffic from the region steadily on the rise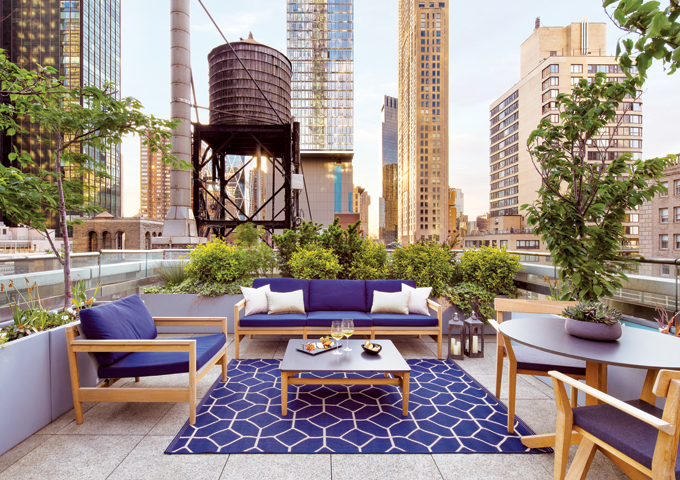 NYC & Company, the official destination marketing organisation and convention and visitors bureau for the five boroughs of New York City, launched its largest-ever, multi-phased global tourism campaign to promote New York City. The first phase of the unprecedented $30 million tourism recovery campaign titled "It's Time for New York City," was rolled out in late June as restrictions were lifted, more people are vaccinated and as travel resumes in the United States and beyond.


Although it's too soon for official data to be calculated, travel agents agree that the outbound interest from the Middle East, Gulf countries especially, for visiting USA has been especially high this summer. Owing partly to the uncertainty surrounding opening rules and relatively stricter, more complicated measures applied across most of Europe, USA is a destination of choice for families from the Middle East to meet each other, enjoy the great outdoors or just take a long-deserved, long-haul summer break with the kids.
Travel to the US is suspended from China, Iran, the United Kingdom, the Republic of Ireland, Brazil, South Africa, European Schengen Region and India in an effort to help slow the spread of Covid-19, but is freely available from the UAE at the moment.
The Centers for Disease Control and Prevention (CDC) in the USA mandates all international passengers to present a negative Covid-19 test result within three days before their flight departs to the United States. There is no mandatory federal quarantine even if you're not vaccinated, so it doesn't matter which vaccine you have received. However, CDC does recommend unvaccinated travellers self-quarantine after travel for seven days with a negative test and for 10 days if they don't get tested.
It has also been promoted to come to the USA and be vaccinated, meaning those who didn't get vaccinated in their own countries could enjoy a leisurely vaccination holiday in the US, without the need of proving previous medical history, nationality, residential status or any of the paperwork.
Peter Roth, Area Vice President & General Manager at Hyatt Hotels New York, says his first business visit after the pandemic has been to Saudi Arabia and the UAE because the region is a key source market for the Midtown Manhattan property. In town to promote ultra-luxurious floor buyouts at Park Hyatt New York, perfect for Middle Eastern families and diplomats seeking privacy in one of the most prestigious addresses in the city, Roth says, "This product is very on trend for what people expect at this stage of recovery of the Covid-19 situation. They want longer stays, to travel in larger groups, sometimes multi-family, sometimes multi-generation to catch up on what they missed out on all these months and to simply break bread together."
The ultimate in privacy and personal space, In Residence at Park Hyatt New York package allows guests the opportunity to buyout the entire nineteenth floor, featuring nine guestrooms and five suites over 10,000 square feet. Five one-bedroom corner suites and several connecting guestroom options can also be tailor made into different configurations to suit the client – turned into a kids game room, a home gym or office or even a theatre room.
"While we had a good mix of business and leisure travellers before the pandemic, we notice a stark demand for leisure travellers for now. While our segments remain the same, the distribution between the business and leisure segments have changed with a higher percentage of leisure seekers. We continue to receive medical travellers from the Middle East, with Mount Sinai Hospital in our neighbourhood.
"We have only reopened for 90 days after being closed for 13 months and without disclosing numbers we can say that we have had a fair amount of interest from the Middle East already. I can confirm that at the moment the hotel has diplomats and royal family members from the UAE and Saudi Arabia as we speak."
The numbers are only expected to rise over the summer if the amount of airlift coming out from the Middle East into the USA is considered.
With the recent addition of Miami to its network, Emirates now serves 12 gateways in the US including Boston, Chicago, New York (both JFK and Newark), Houston, Dallas, Los Angeles, San Francisco, Seattle, Washington DC and Orlando.
Etihad's USA flights, though limited to Chicago, New York, and Washington DC, come with the added benefit of Etihad's USA pre-clearance, the only United States Customs and Border Protection facility in the Middle East. This allows passengers bound for the United States to process all immigration, customs and agriculture inspections in Abu Dhabi before they board their flight. In a recent limited time summer campaign, Etihad Airways has offered free private airport transfers to and from Dubai for guests travelling in Economy to select destinations including all three of its USA outposts.
Miami, Dallas, Los Angeles, Seattle and San Fransisco are some of the US destinations that Qatar Airways offers. USA is on Qatar's yellow list, so certain restrictions may apply for those retuning to Qatar.